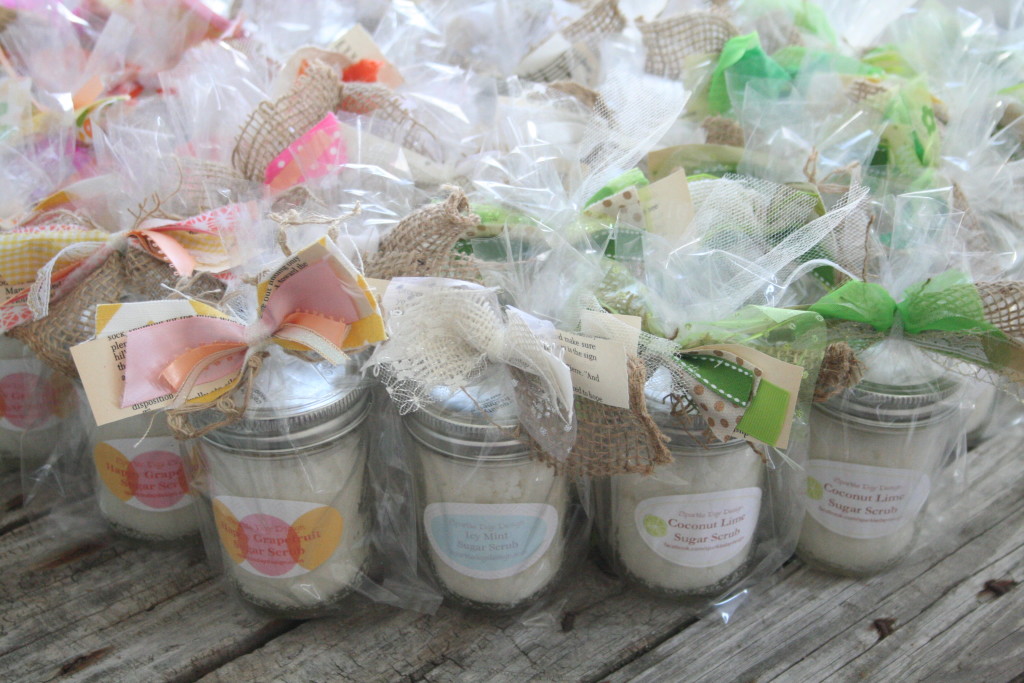 All Natural Sugar Scrubs $5 each.  Beautifully packaged and ready for gift giving!
These all natural hand-made sugar scrubs make great gifts for teachers, neighbors, birthdays, holidays, thank-you gifts, spa-nights, and many other occasions.  Drop one off to a friend to let them know you are thinking of them.  Give to teachers during teacher appreciation week.  Perfect for gardening friends who need extra help cleaning their hands. Easy neighbor gifts during the holidays. I recently completed a custom order for 30 scrubs to be given away to fellow cast members in a musical production.
Keep a few sugar scrubs on hand for those last minute gift needs!
To gently exfoliate and soften hands, feet or other rough areas, simply scrub and rinse off in warm water.  For softer lips, scrub then lick off the extra–it's that good!
Made from fresh ingredients, so don't let it sit around.  Keep it in the shower and use it daily! Sugar in the shower–how great is that?!
Choose from 5 yummy flavors:
**Happy GRAPEFRUIT
**Coconut LIME
**Icy MINT
**Vanilla LAVENDER
**Citrus ORANGE
**Sweet LEMON
**Candy Cane PEPPERMINT
Message me on Facebook here for questions or orders for most immediate response.  Not on Facebook?Comment below or email me at sparkledaydesign@gmail.com
Order now for rave reviews from your friends!