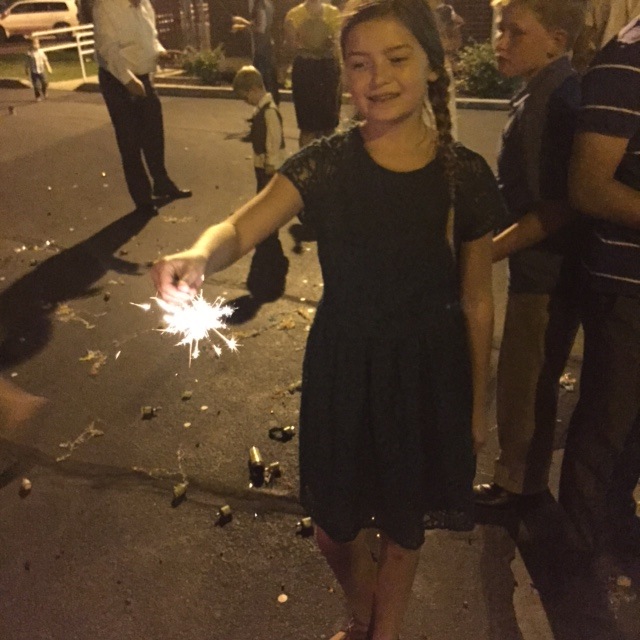 To kick off my Sparkle Moments campaign on the blog, I'll share a sparkle moment from my nephew's wedding reception a few weeks ago. Me and my girls had a grand time. There was good music from a rockin' DJ, good food from a taco truck parked right outside the reception, and great company with family including adorable little first-cousins-once-removed, or whatever their cousin's children are called.  After we tasted the delicioso tres leches cake, it was getting late and time to leave.  We had a commitment at another event.
Well. You know what happens after the cake is cut.  The shenanigans begin with decorating the getaway car.
Just as we were making our exit, out came the white shoe polish, oreos, balloons, crepe paper, and pop cans in the parking lot with the guy cousins and their wives.  Of course my girls did not want to miss out on this rite-of-passage and please—-there were Oreos to pull apart, eat half and stick the other half onto a car! Hearts to be drawn onto the windows. And cans of soda to pop open, take a sip, dump the rest, and tie to the back of a car! What kid does not want to be part of permissible hooliganism??!!!
And oh yes. There were fireworks, poppers, and sparklers to hand out! It was as if the party was just beginning.
The girls begged to stay to be part of this new excitement they had not remembered witnessing previously.  I made a phone call to bypass our other commitment that night.  And I'm so glad I did. We stayed down to the very moment we saw "Just Married" on the back windshield of that car as it left the parking lot.
The fun bonding moments they shared as they joined with their 20-something cousins and their 3 & 4 year old first-little-cousins-once-removed, barefoot in a parking lot on a warm summer night, sending off a happily married cousin and his beautiful wife onto their honeymoon bliss, was a #sparklemoment indeed.
Share your sparkle moments on Instagram, Facebook, Twitter, YouTube and any other platform where you want to spread the love. Tag @sparkledaydesign and use hashtag #sparklemoment #sparklemoments 
Let's create a movement! A wave of virtual glitter! So shiny we can't help but notice!